Executive with Veranda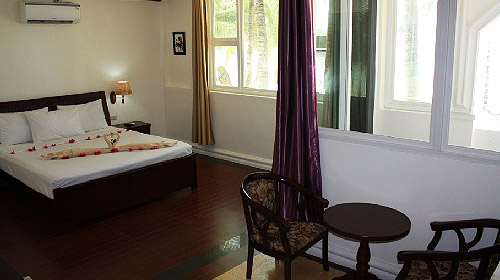 One of our favourites! A 1 king sized bed ideal for couples who treasures privacy and memories. These room offer a sence of romance to your life with the amenities set to comfort your stay with the overlooking sea view where in you can see the sunset in the private veranda. It is located at second floor of the hotel. These room also featured 2 chaire with side Coffee Table, Coffee/Tea Maker, Remote Controlled Air Condition, Flat Screen T.V, Mini bar,Telephone, Hanging Closet and Hair Dryer inside.
How to Get There
The fastest way to Boracay is to fly to Caticlan where motorized outrigger boats ferry tourists to the island.
The other air route is Kalibo about 65 kilometers southeast of Caticlan. From Manila, both routes take about 45 minutes.
There are also flights to Caticlan from Cebu City in central Philippines. Flight takes 30 minutes.
About Boracay
Boracay Island is about 300kms. south of Manila. It is located off the northwest corner of Aklan Province in Panay. Approximately seven kilometers long and one kilometer wide in its narrowest part, Boracay contains one thousand eighty three (1,083) hectares.
Its powdery white sand beach and pristine turquoise waters have earned it a place among the world's best tropical beaches (BMW Tropical Beach handbook).